About Leather Axe Handle Protection Covers Also Ask
Sep 21,2022 | TOURBONSTORE
Product Name:Tourbon Leather Axe Handle Protection Covers
Product Image: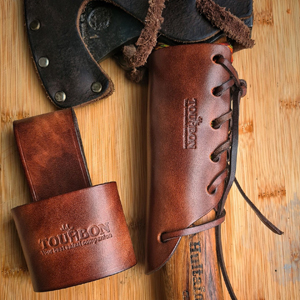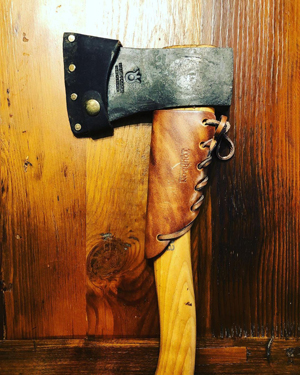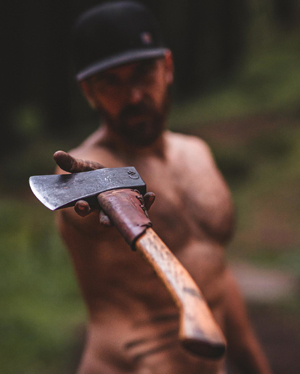 Question:Does it fit a husqvarna hatchet 13 in?
Answer:It probably would fit, but I had one on my small axe and the first time it came in contact with a piece of wood it split in half! Almost like the leather was dried out to much or something. I was not happy and the company, Hide & Drink, never did anything to replace or refund
By Patrick K. on April 4, 2020
Answer:Unsure? Using it on an antique I have restored. It is very high quality though.
By Amazon Customer on April 3, 2020
Answer:Yes
By Amazon Customer on April 4, 2020
Question:What is the specified thickness of this leather axe handle protector?
Answer:I don't know the specific thickness but it is about 1/8 to 3/16 thick. The one I got was about as thick as a good leather belt. Did not feel cheep at all. I would buy it again.
By Jim on March 4, 2021
Answer:The one I had was maybe 1/8, maybe a bit thicker. However, the first time I happened to hit it on a small piece of wood it split wide open. Like the leather was so dry it basically exploded. When I emailed the company I got no response. I had only had it maybe a week and that was the first time I hit wood with it. Woul… see more
By Patrick K. on March 4, 2021
Answer:Mine is 1/8" thick. Seems heavy enough to me.
By 8-2-82 on March 4, 2021
Hey there is some guy over by the soda machine that hasn't heard your "it split" story Patrick, go lay it on him !!
By IdahoChief on March 2, 2022
Answer:

Mine burst open the first time it hit wood! It was like it was dry rotted already!
By Patrick K. on December 24, 2019
Answer:

Handleguard only
By Amazon Customer on December 24, 2019
Question:Hello, I have a tomahawk I would like to put this on. The circumfrence of the handle is a hair over 3.5 inches, would this fit?
Answer:Yes , this leather axe handle cover will fit your 3.5 inches handle tomahawk
By Tourbon_Safari Store SELLER on December 16, 2020
Answer:It measures 3.75 inches from center hole to center hole laid out flat, the full length of the handle cover. It is straight cut, not tapered. (Side note: It is definitely too small for a regular axe handle.)
By Lili23 on December 15, 2020
Question:what is the thickness of the leather used to make this?
Answer:Looks like just shy of an eighth inch
By Amazon Customer on October 20, 2020
Question:Would this fit a cold steel axe gang hatchet?
Answer:Yes , this leather adjustable hatchet cover fit a cold steel axe gang hatchet
By Tourbon_Safari Store SELLER on November 23, 2020
Question:Does the color match the tourbon vintage leather axe head sheath and belt carrier? is it compatable with that belt carrier?
Answer:I wouldn't know. I have a huskvarna axe and the sheath it came with.
By Bobby Howard on April 15, 2020
Comment