About TOURBON Nylon Roll-top Bike Panniers People Also Ask
Aug 16,2022 | TOURBONSTORE
Product Name: TOURBON Nylon Roll-top Clip-On Market Shopper Bike Panniers Shoulder Tote Bag
Product Image: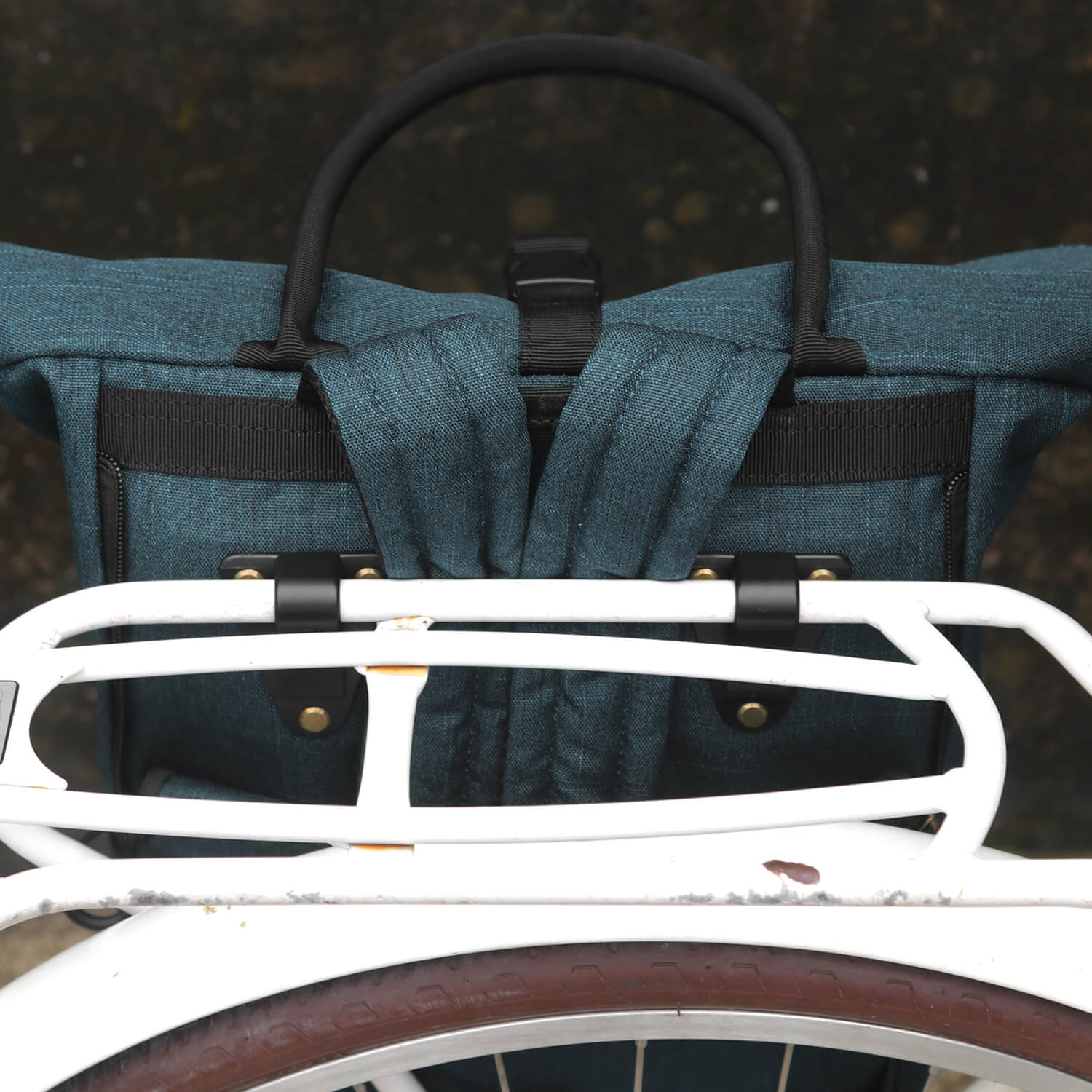 Question: Is the material waterproof?
Answer: The bike pannier bag material is nylon and isn't waterproof
By Tourbon
Answer: Not waterproof, actually the opposite.. After biking in the rain, I found a pond inside this bag! All the water was sitting inside at the bottom... Ever since, I sprayed the entire thing with water repellent, and it became a bit more water resistant. But not waterproof. After treating with water repellent, I can bike in the rain and it doesn't get as wet inside. I even had a laptop (in the case), and it survived ;)
By NN

Question: Is this machine washable?
Answer: This bike bag rear rack bicycle pannier should hand wash
By Tourbon
Question: how does the hook secures on the rack? can you attach some picture or video of it? thanks
Answer: It has two hooks in the back on top, and a button-close strap on the back. It stays on the rack very well, even on my super-bumpy rides!
By NN
Question: Can it be used as a trunk bag instead of a pannier?
Answer: I guess.. It can be used as a regular bag or backpack. The sides are soft.
By NN
Question: Does the green bag contain leather? I won't buy it and see it used in other products sold by this company.
Answer: I don't think there's any leather!
By Rachel LTG
Answer: No leather, all fabrics/plastic
By NN
Question: Both bags are included in price?
Answer: No , there showed Only one
By Tourbon
Question: Can it attach to the top of the trunk rack, or just the side?
Answer: Just the side ,there is no extra strap attach to your trunk rack .
By Tourbon
Question: What's the capacity of this?
Answer: Hello, the outer size of this blue bike backpack is approx 40x11x28cm, the capacity is about 12L.
By tourbon
If you like this pannier bags for bikes, you could click here to know more.
Comment