About TOURBON Waterproof Canvas Bicycle Bike Rear Seat Carrier Bag Cycling Double Panniers Bag Pack Review
Dec 14,2021 | TOURBONSTORE
Product name:TOURBON Waterproof Canvas Bicycle Bike Rear Seat Carrier Bag Cycling Double Panniers Bag Pack
Product image: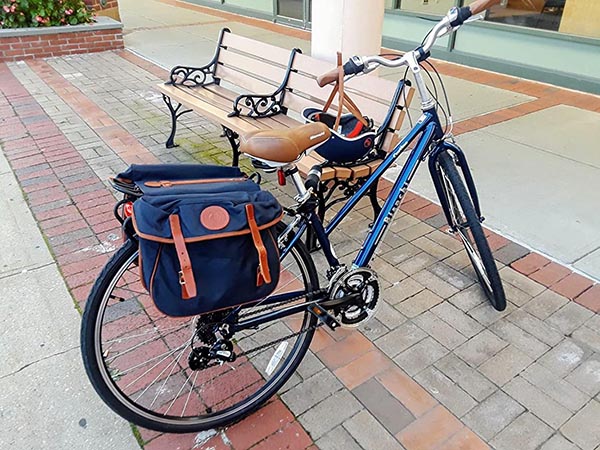 Comments:I looked high and low for panniers like these. Classy looking things. Snaps to hold it on my bike rack are a little fumbly but they do a good job. I have a bike rack from ??? manufacturer and the panniers fit great. Thick fabric, lightweight. These were a must for carrying my shopping, my work day gear or my foul weather gear.
It remains to be seen whether they will keep everything dry or not. I don't doubt the fabric, only the gaps around the top flap. I think should I encounter a rainy day I'll probably use plastic bags for my gear and see if the inside of the panniers are wet when I arrive at work.
No problems with my heels contacting the bags on my medium size commuter bike with 26 inch wheels. That is a function of the rack as much as anything else. The center of my bike rack is a little behind the rear axle.
Update: I'm several hundred miles into the ownership of these bags. They work great. Still keeping the rain out. I've taken to using them as an office bag as well even when I drive to work. Carries my lunch, gadgets, etc. Definitely a cloth bag, doesn't hold its shape well but not important to me.
Update: two year and two thousand miles later. Still getting the job done. No problems with tears, seams or snaps. If you are carrying something expensive in the rain, double bag it (like a laptop or tablet). I had one occasion after a heavy downpour where a little rain found its way inside and puddled a bit. It won't leak out thus the puddle. They are a little saggy but I don't care. I call them "bike pockets".Review name:Joe Average
Review date: May 6, 2021
Review country:United States
Review helpful:35people
Product name:TOURBON Waterproof Canvas Bicycle Bike Rear Seat Carrier Bag Cycling Double Panniers Bag Pack
Product image: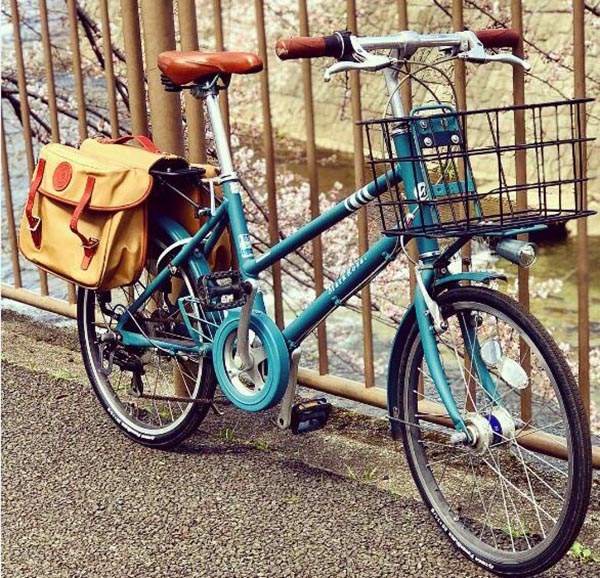 Comments:I love this bag. I purchased it for its overall aesthetics and size. I wanted a bag that I could take to work and satisfy my bicycle commuting needs. I use it to carry all of my things for work. This is made from a strong water resistant canvas and is well constructed. The stitching is strong and the leather is real. It has kept my belongings dry even in heavy rain. It is easy to attach and detach from the rear rack .
Review name:Constancio Soto
Review date: November 6, 2021
Review country:United States
Review helpful:42 people
Product name:TOURBON Waterproof Canvas Bicycle Bike Rear Seat Carrier Bag Cycling Double Panniers Bag Pack
Product image: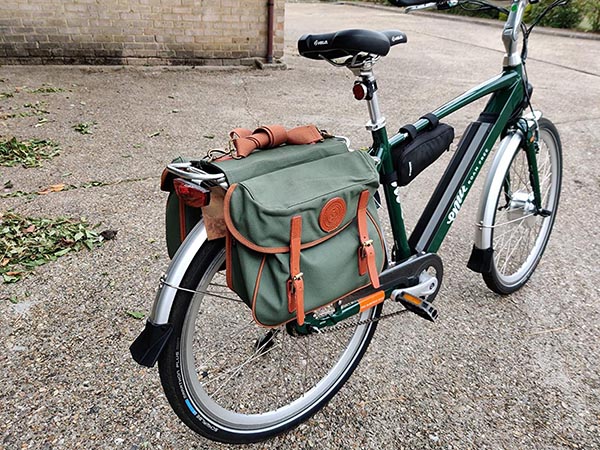 Comments:This bag gets tons of complements. The fabric, stitching, etc is superior. It comes with two vertical snaps per side on top and a vertical snap about a third of the way up from the bottom to attach to the frame. The snaps will only fit standard size rails which are smaller than the heavy duty rails put on bikes designed to carry loads, but newer bikes often add these rails to the side for just this purpose. The snaps can also be mildly annoying because they fit tightly to the rack, but that prevents any sliding. The leather buckles can be stubborn, too,, but I just worked the tongue a number of times into each hole. This stiffness actually speaks to the quality of the leather rather than being a deficit. The shoulder strap works well for carrying the bag and it a great convenience. I don't know the exact measurements, but it will hold, at minimum, two 2-liter bottles on each side vertically or horizontally. I usually carry my laptop, books, etc in it, but I have also used it for light grocery runs. I love it.
Review name:LD
Review date: February 8, 2021
Review country:United States
Review helpful:24 people
Comment