About TOURBON Canvas Convertible Backpack Panniers Bicycle Rear Rack Bag Review
Apr 23,2022 | TOURBONSTORE
Product name:TOURBON Canvas Convertible Backpack Panniers Bicycle Rear Rack Bag
Product name:TOURBON Canvas Convertible Backpack Panniers Bicycle Rear Rack Bag
Product Image: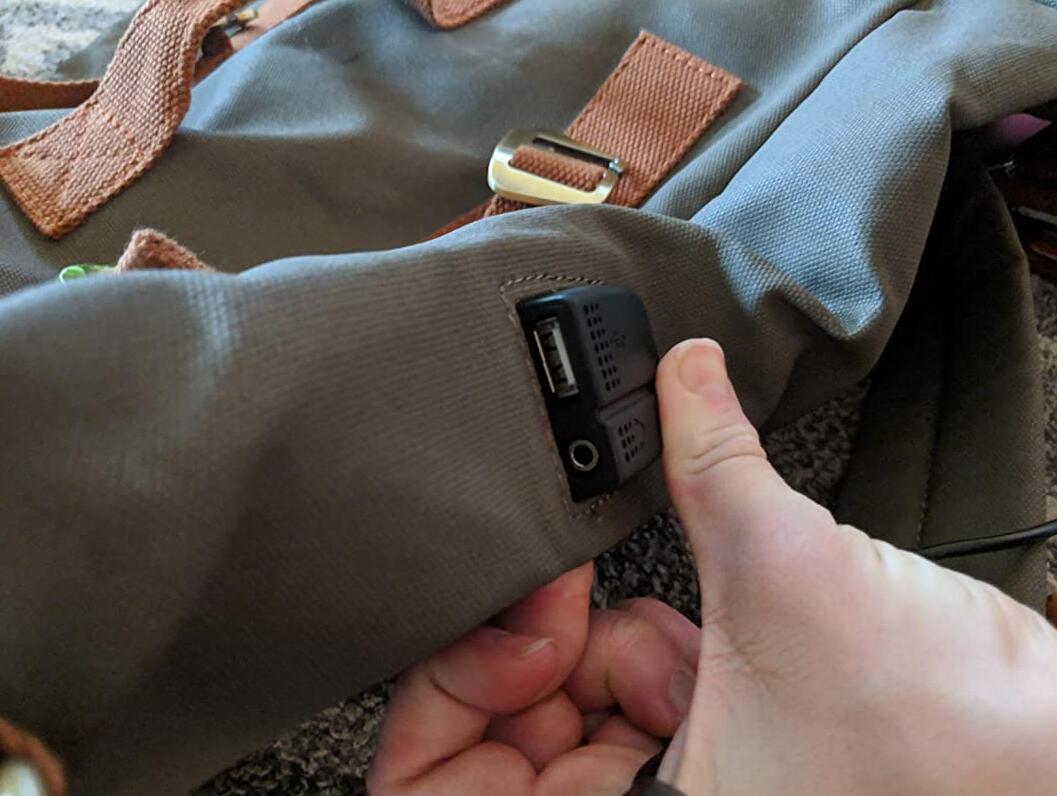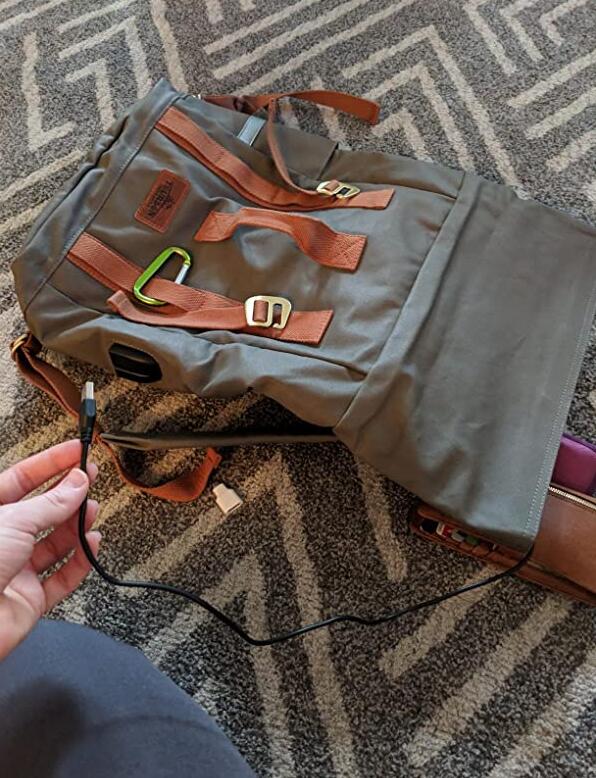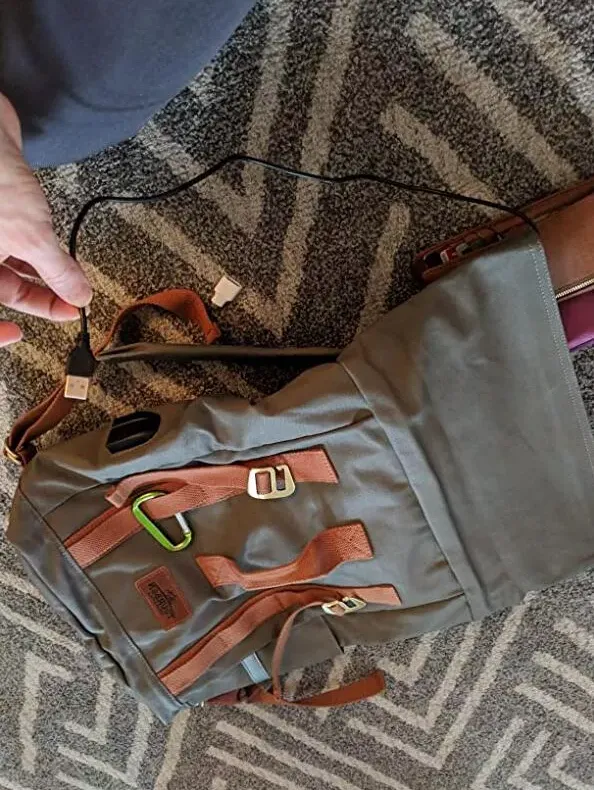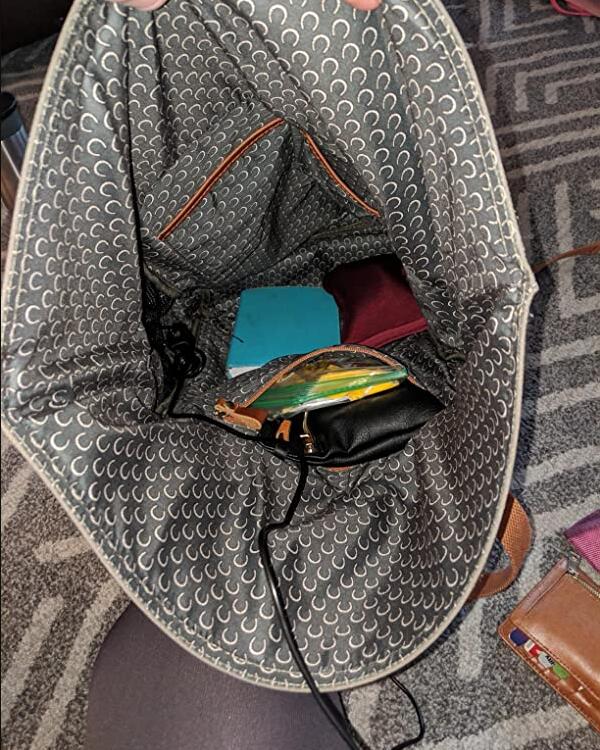 Comments:
UPDATE:
The manufactures have updated this design and sent me a new backpack that is much better. The part that hooks onto the bike rack is now solid and removes much more easily. I would recommend. The sellers are also very quick to respond and incorporated my feedback into the new design.
Cons:
1. I am rating this as "fair" because the advertisement is slightly misleading. It is advertised by laptop size, however there is no pocket for the laptop specifically. The small pocket seen in the photo is holding a pencil bag and cough drops, about 4" x 5". I bought the 16" thinking it would have a specific pocket for a 15" laptop, but without a specific pocket the bag is kind of huge and everything must be just tossed in there. This is a great bag if you just want to be able to fit a lot of stuff in here without needing it organized.
2. Additionally the "charging port" is not functional (as far as I can tell). It is just a USB on the inside, and a USB port on the outside. I am not sure how this is suppose to charge your phone unless you have a portable charger to hold on the inside, or want to plug your backpack into the wall instead of your phone directly. I could be wrong but I tried charging my phone or plugging the actual backpack into the wall and just doesn't seem functional or practical as advertised. (See photo). I would love a tutorial by the seller if I am just missing something?
Positives:
1. The canvas seems sturdy, but I have not had the chance to test it's water resistance.
2. The bag looks just like the photo and is very cute in person. I am 5'6" about 125 with a thin frame. The backpack is definitely large but does not look too bulky when I put it on my back. Pretty stylish while also being functional and comfortable. The straps have about as much padding as a normal L.L.Bean school-bag. This is fine for me but if you have shoulder problems, keep that in mind. I generally have 1 or 2 law book in my backpack so I am wondering how the cushion will hold up.
3. The strap hooks are brass (?) and seem very sturdy, so I not worried that they will break like plastic ones.
4. The rack hooks are very thick plastic and seem pretty sturdy as well. They hook very tightly onto the bike rack. It is fairly difficult to get the bag off of the rack once it is snapped on, but I would rather have this instead of the bag sliding around. If unzipped all the way, the back flap hits against the bike wheels, but just zipping it up right under the hooks solves this issue no problem. If I have on large shoes or a bottle in the pocket (if bag is on the left rack) my heel might hit the side of the bag. I found that moving the bag to the other side of the rack and moving it all the way back solves this issue.
Overall:
I am going to keep this bag because it is overall cute and functional. Although I am keeping it, I would say it is not worth $85. I'd say a more appropriate price would be $40-50 given it's downfalls but also given the lack of similar products on the market. The more I play with the bag, the more I will learn how to make it work for me I am sure.
I would love a tutorial on how to use the charging port.
Thanks, I hope this helps!
Review Date: April 21, 2022
Review Country:United States
Review Helpful:43 people
Product Image: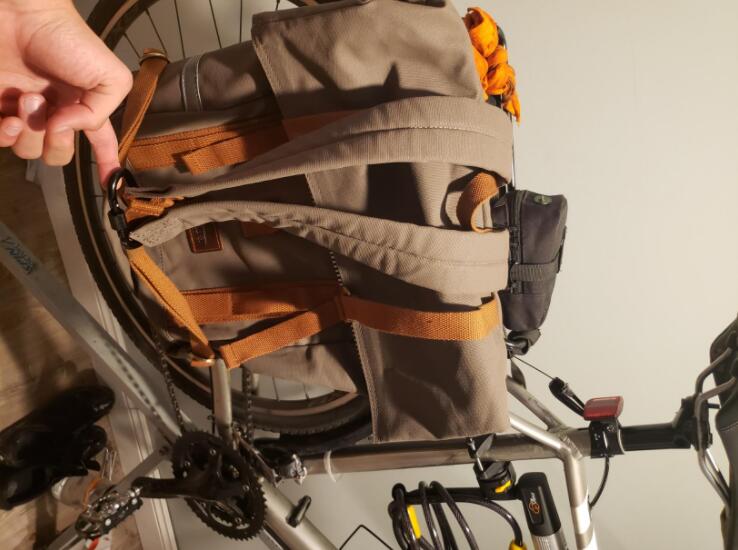 Comments:For anyone who may be deterred by comments saying it is annoying switching from backpack to the bike rack (like I almost was) simply flip the straps back and use a carabenier to hold them in place while cycling (see picture attached)
I am very satisfied overall. Looks great and is very spacious. Perfect for cycling commuters or those back packing around.
Review Date: April 17, 2022
Review Country:United States
Review Helpful:34 people
Product Image: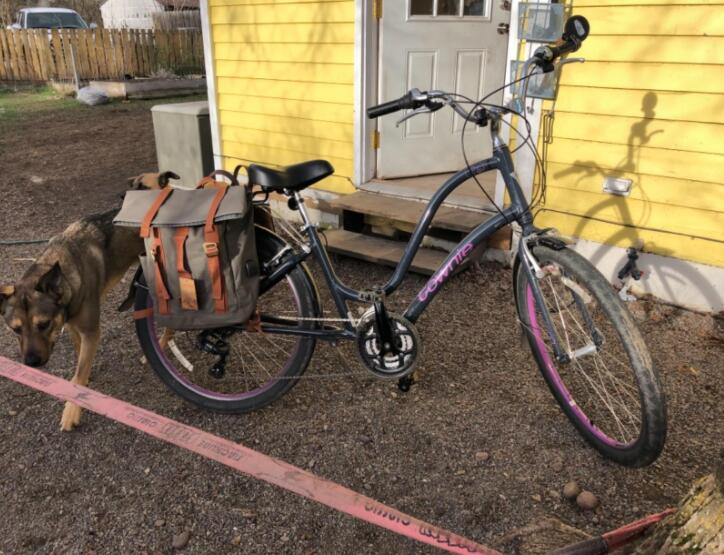 Comments:This pannier is great. It's a good size (the measurements are accurate). Looks great. I get a lot of compliments on it. It clips at the top with two thick plastic clips that are easy enough to get off without worry that they'll come off on their own. It's not a super comfortable back pack, but it works for short outings. The outside pocket is really handy and there are a few more pockets inside that help keep things organized. The canvas also did a good job keeping the rain out.
Review Date: April 13, 2022
Review Country:United States
Review Helpful:45 people
Product Image: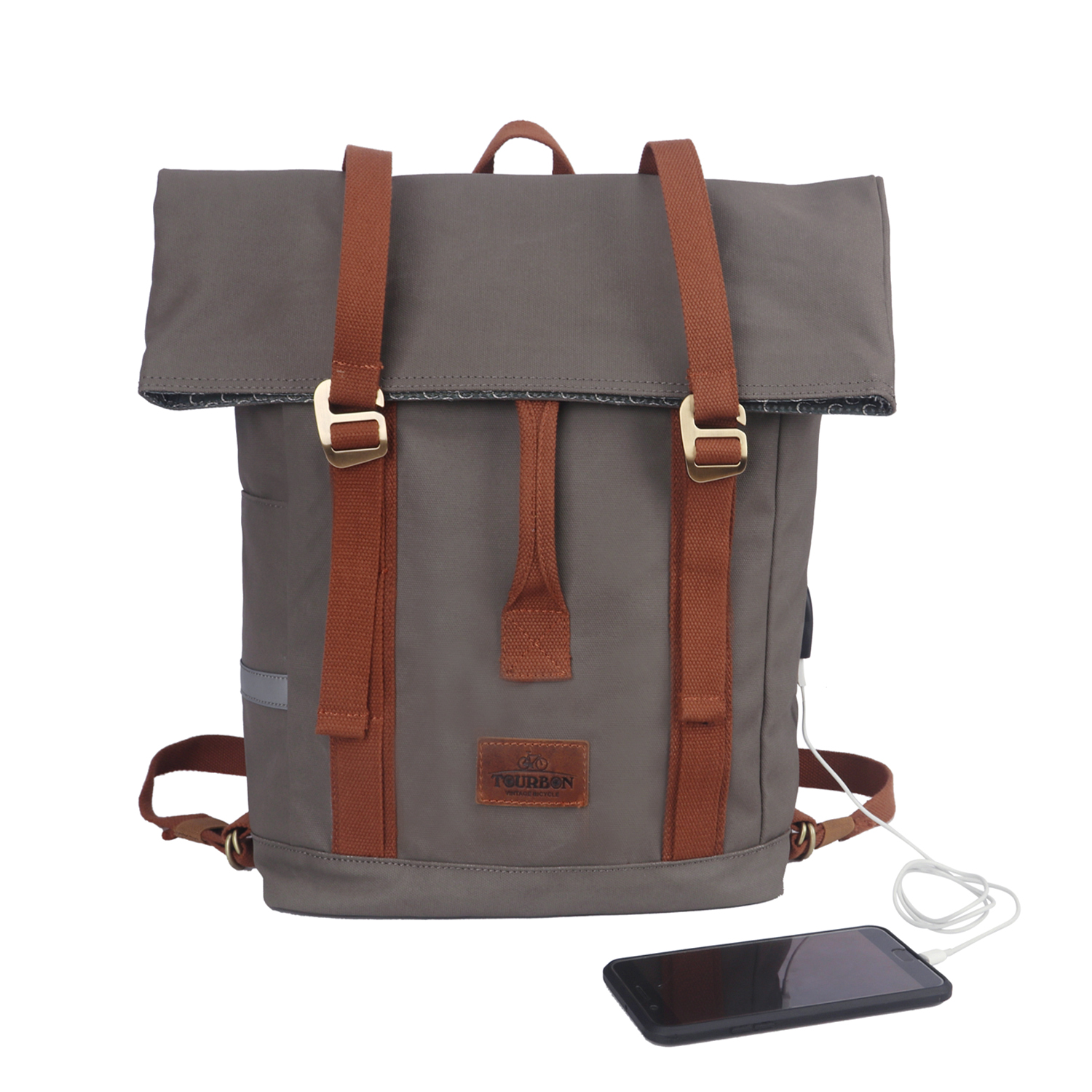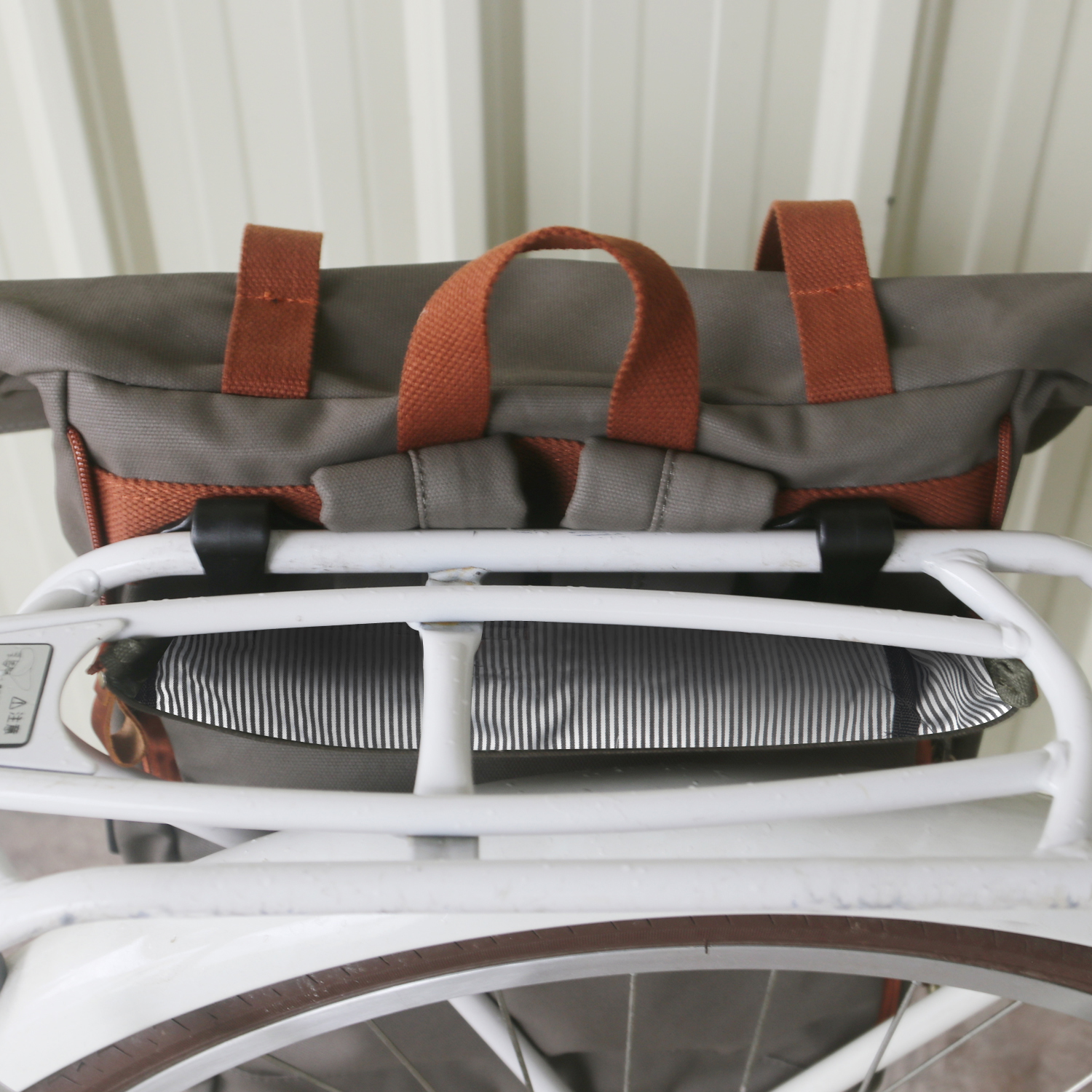 Comments:If you're wondering if you should buy this item, you really, really should! It really could be that Holy Grail bit of kit you're missing from your arsenal of other cycle swag, and it's oh so practical as well!
My husband and I each have one and use them for commuting, taking a couple days worth of gym kit, locks, lunch, an iPad and other miscellany each time we use it, and there's still room to spare.
The thing that let me down in the past about panniers of this size is that they often come with a bulky messenger strap which isn't ideal when you've got a huge bag full of stuff and all the strain is on one shoulder, pulling you into fellow your Londoners on the pavement - it's not a good look. With this bag, however, it fits securely on my back sharing the load. I wouldn't do a 5k run with this on my back, but it's comfortable enough to go from A to B and to wear on the tube if I chicken out of cycling home in the rain.
The backpack shoulder straps fit neatly into the zippy down slot, so they are neatly protected from tyres when cycling. I also find the pannier hooks to be very easy and quick to get on and off but you have to press them down firmly on the bike rack when putting them on, but this just means they do feel fixed in place when you're riding, which is a good thing.
All in all, I am 100% satisfied and cannot recommend this product more wholeheartedly. Happy riding!
Review Date: April 6, 2022
Review Country:United States
Review Helpful:33 people
Product Image: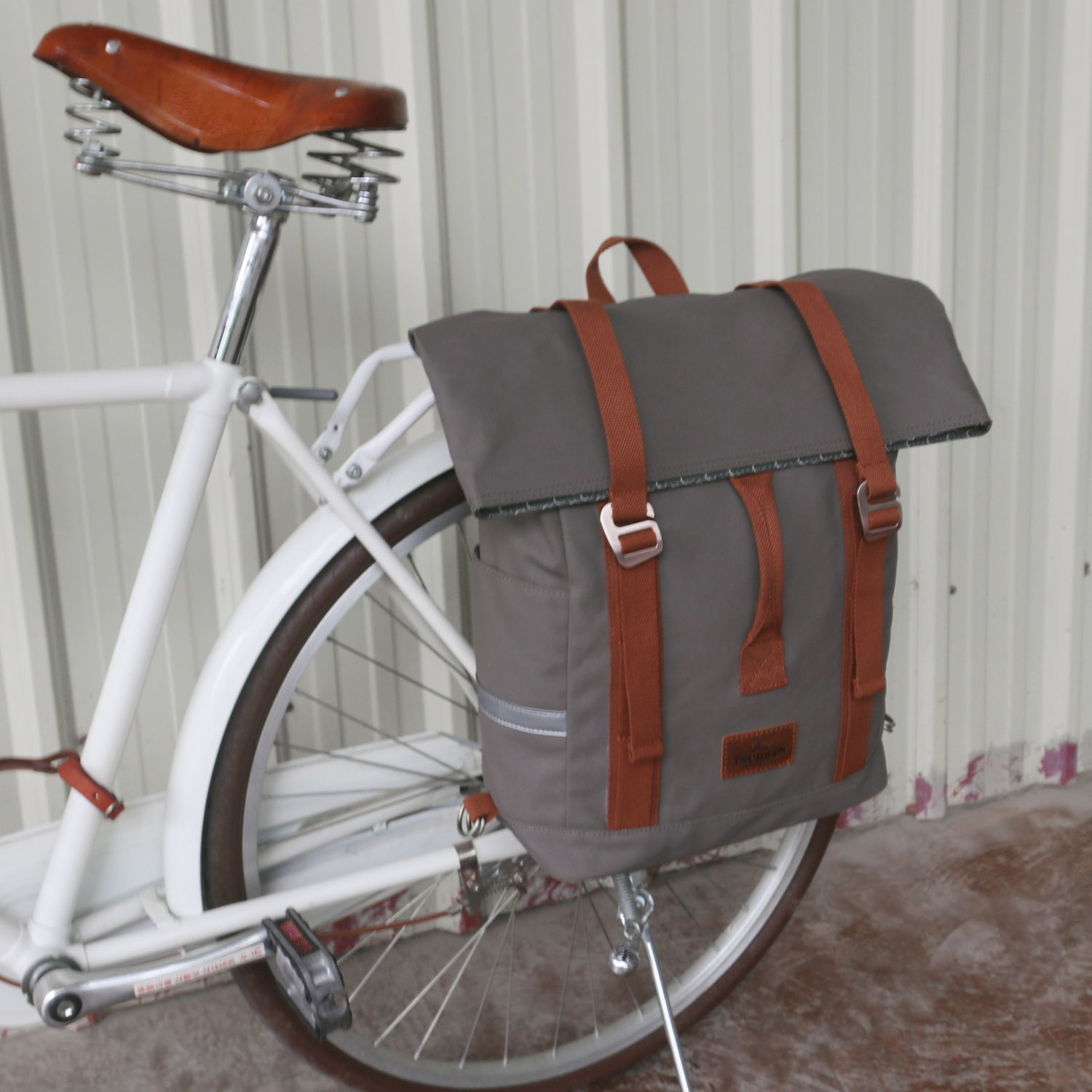 Comments:I love this bag not just for its looks, but for its size. It is able to fit in loads of stuff for my commute or shopping.
It can fit in my raincape, waterproof trousers, laptop, lunchbox, shoes and change of clothes.and still have room spare for me to buy a loaf on the way home.
It has a roll-top so there is no zip, but it can be folded over and the straps tightened over. Some people don't like this, but I quite like the opening as it means I can stuff things in and not think about catching the zip or having to struggle with a zip if it is too full. Once it is full, however, it doesn't hold its shape, but then I have filled the bag rather a lot and most bags would lose some of their shape. Again, this doesn't bother me but maybe a problem for others.
The canvas and straps and d clips are thick and the bag, on the whole, is well made. It does have a few internal pockets which are handy and an external side pocket. On the other side is the usb/charging port which sticks out slightly and meant that I can only use it on the left side of the pannier rack as my foot kept catching it when I was cycling.
The only gripes I have, that don't stop me loving this bag, but might bother some , are the clips for attaching to the pannier are plastic. They are a strong plastic but I'm disappointed that a bag of this quality and the manufactures couldn't stretch to metal clips, especially as this bag isn't a light bag. They also make it awkward to get the bag on and off the bike.
To convert the bag to a rucksack once off the bike, the straps have to be looped through the d clips, which is a bit irritating, when it could so easily have been solved with lobster clasps with a swivel bottom permanently attached to the straps and then just clipped on to the d clips, making it more convenient. I have now purchased the lobster clips and find it much quicker and easier when taking the bag on and off the bike.
I can't vouch for its waterproof qualities as I haven't, thankfully, been out in the rain YET! That said, I would probably put my extra waterproof cover on anyway in the inclement weather, just in case.
Overall, this is my go-to bag when cycling. I use it for shopping, commuting to work and in the future can use it for nights away. If you need a large rucksack pannier and want it to just look like a bag then I would thoroughly recommend purchasing this bag.
Review Date: March 24, 2022
Review Country:United States
Review Helpful:25 people
Product Image: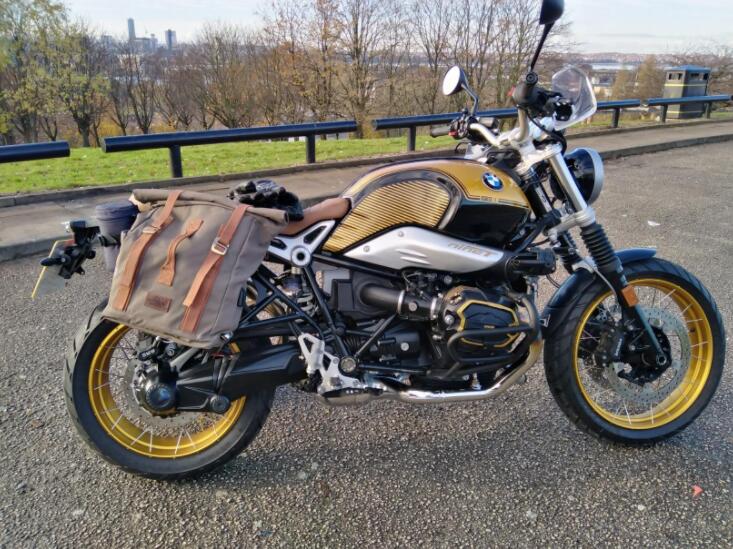 Comments:Put this to use as a saddlebag on my motorcycle, not exactly what it is designed for but works brilliantly, so much cheaper than other manufacturers that provide similar products.
Review Date: March 18, 2022
Review Country:United States
Review Helpful:23 people
Product Image: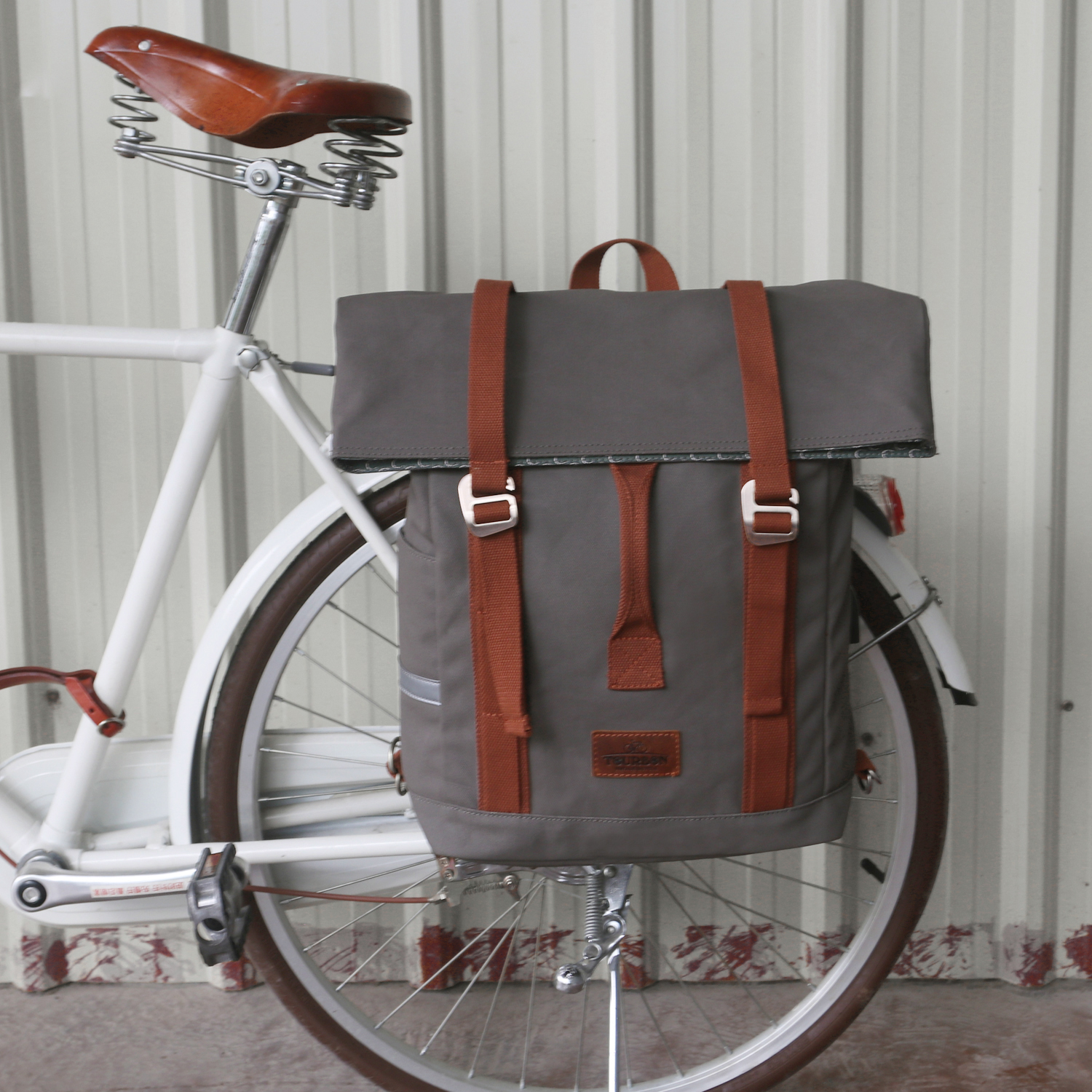 Comments:The backpack is just great, but the mounting brackets don't completely fit my wife's bike, but we've had this problem with other backpacks. So it's primarily on the luggage rack, not on this backpack.
As I said, the backpack is waterproof and the division is great.
Because the inner lining is lightly striped, you can find everything. On one side is the possibility to attach a power bank and charge the mobile phone outside the pocket.
Otherwise there are two inside pockets.
The padded straps are comfortable to wear and you don't feel the clamps on your back either.
There is nothing wrong with the backpack.
Review Date: March 6, 2022
Review Country:United States
Review Helpful:19 people
Comment