About TOURBON Bike Frame Bag Front Crossbar Triangle Pannier Bag Review
Jun 06,2022 | TOURBONSTORE
Product name: TOURBON Bike Frame Bag Front Crossbar Triangle Pannier Cycling Pack Single Sling Backpack
Product Image: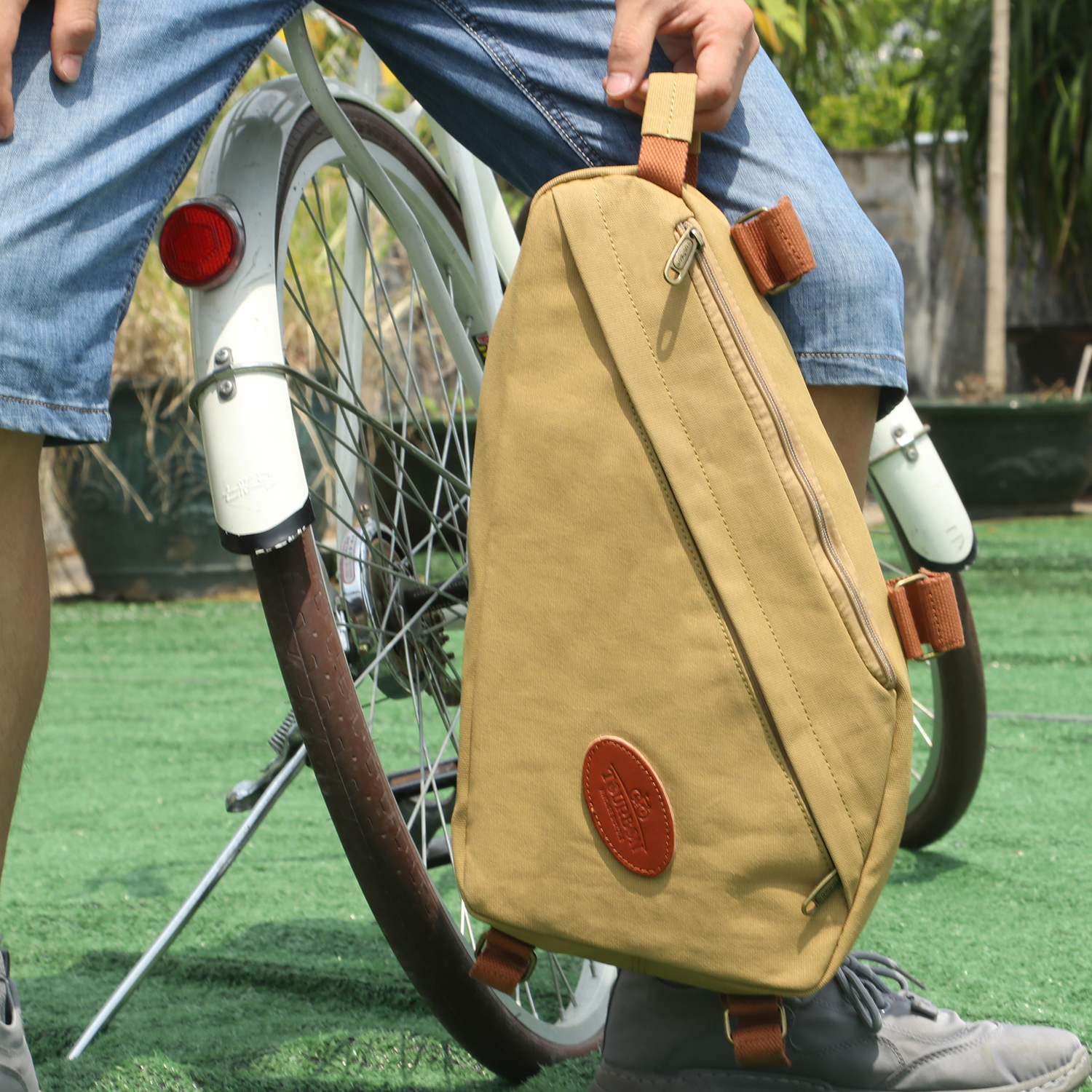 Comments: Exactly fits the triangle of my Chinese flying pigeon. An olive monotone. When installed on the bike, the straps fit snugly under the bag. Attaches to seat tube with brass snaps… There are straps on the top tube sleeve. The bag itself doesn't have a lot of space. The main compartment is only accessible via the straps at the top, so you'll need to remove the bag from the bike to gain access. If you do take the bag off the bike, you can adjust the straps to make it a one-shoulder bag. The fabric itself is moderate weight, and the main and side compartments feature sturdy brass zippers.
Review Date: June 4, 2022
Country of review: United States
Helpful comments: 43 people
Product Image: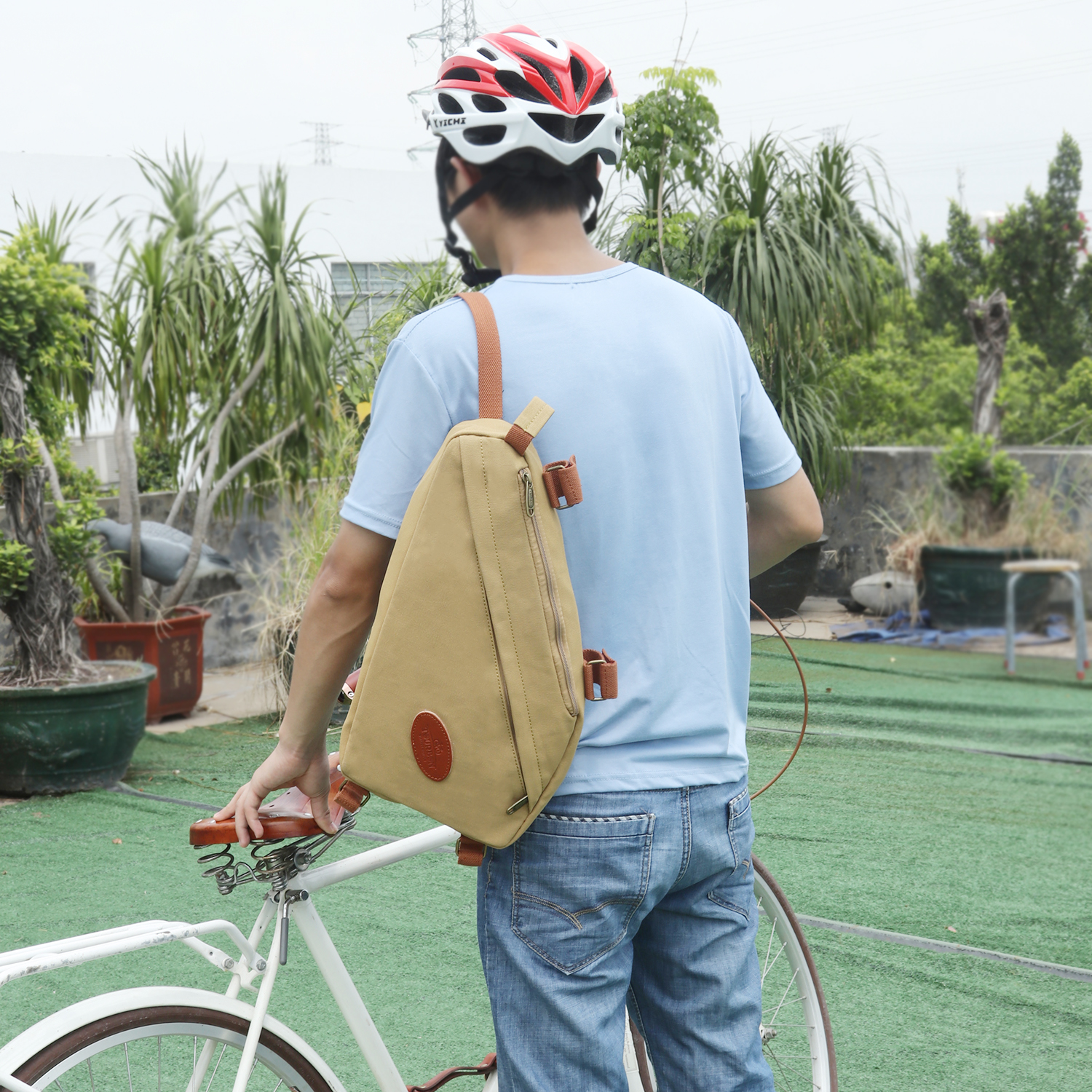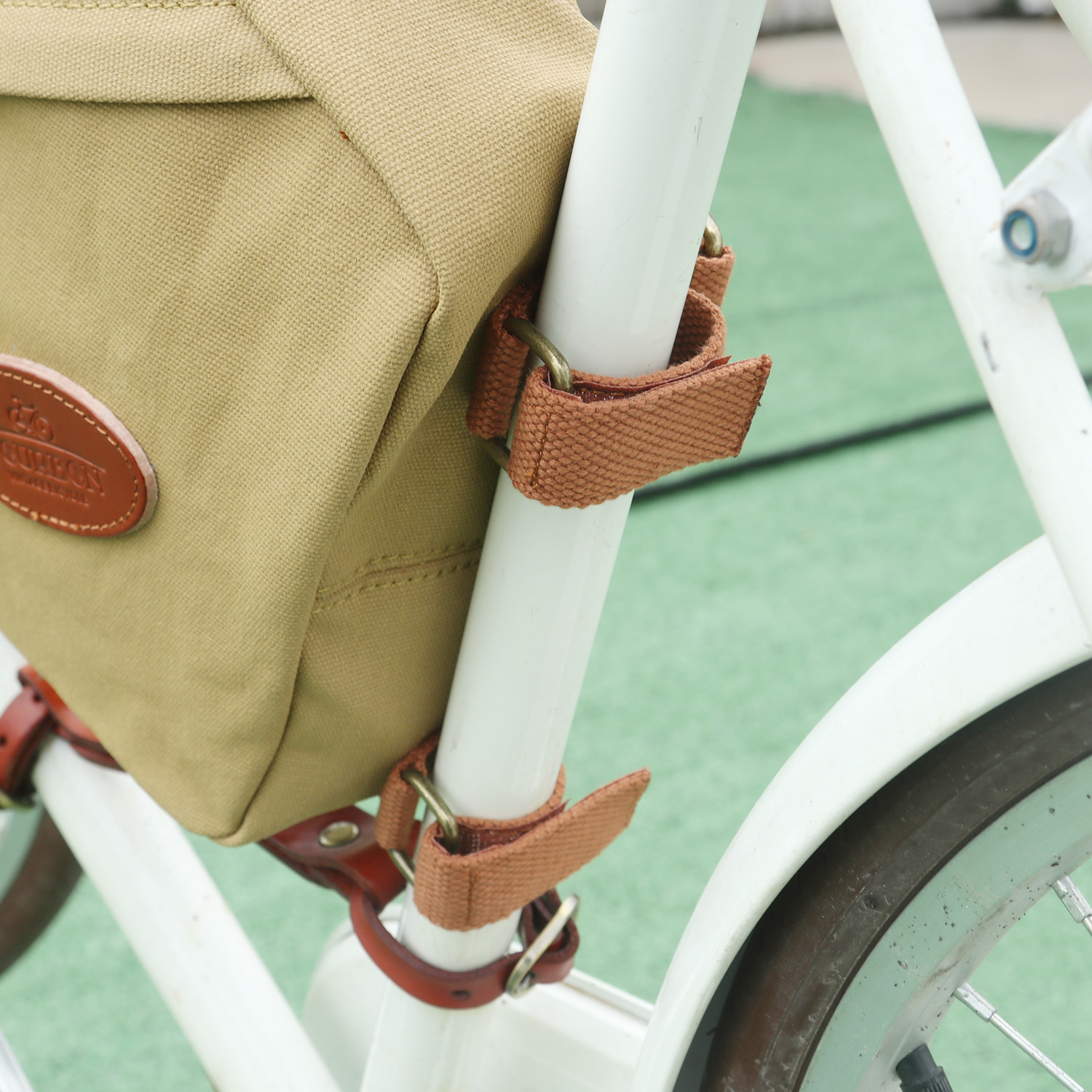 Comments: This frame bag seems to have better construction than a bag and is three times as expensive. The canvas is thick, the straps are of high quality, and all seams are secure. The shoulder straps are made with good strapping and can be easily adjusted from snug to the bag to full length to become a shoulder bag. The bag is well waterproof for commuting in light rain, but I don't want to leave it unattended in a heavy rain. That said, I haven't tried it in heavy rain, so I can't tell from personal experience how waterproof it is.
I was able to safely store several heavy u-locks, cable locks, reflective vests and gloves at once, all without bloating the bag and interfering with pedaling.
One complaint I have is that to get anything out of the main bag, you have to open the Velcro shell on the top so that the bag is no longer supported from the top, so if fully loaded it will want to twist off the bike. However, the bag comes off quickly and easily, and after a few times, loading/unloading the bag becomes second nature.
Overall, I am very happy with my Tourbon bag and have purchased several different types for my daily commute. Classic style and good build quality at an affordable price!
Review Date: May 25, 2022
Country of review: United States
Helpful comments: 60 people
Product Image: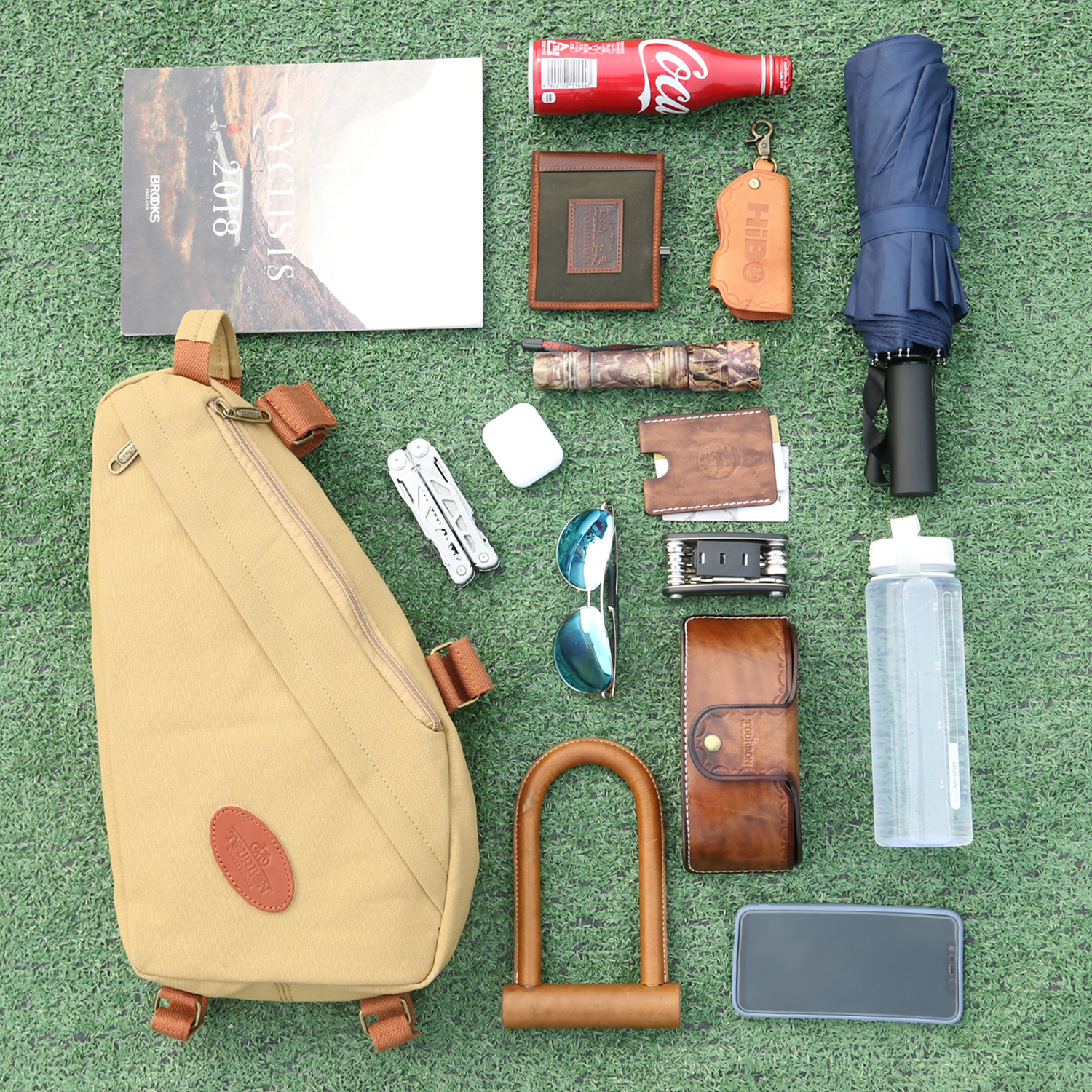 Comments: This Tourbon Cycling Bag is very well-made, and is made from quality materials. Tourbon Cycling Bicycle Triangle Frame Bag Bike Backpack Pannier ( Canvas and Leather , Classic Green) The fabric, leather accents, and hardware are all heavy-duty and made to last. I am an avid cyclist, and live in Oregon, so this bag gets used often in the rain. It has held up beautifully, just as well as I had hoped that it would, if not better.
✳️ POCKETS & ZIPPERS:
The outside zipper pocket is definitely a triangle, and while the shape lends itself well to the bag's overall look and functionality, it also means that small or weighty items do end up in the bottom corner. That said, the outer pocket is easy to access while riding. The main pocket is fairly large, but will rub your legs when completely filled. I have noticed that the color of the bag is wearing off a bit in the areas that rub most.
✳️ FABRIC & HARDWARE:
The coating on the inside of the bag keeps things mostly dry, even in a down pour. The bottom of the bag will get splattered with road grit if you don't have full fenders on your bike. The Velcro strap is solidly anchored in the fabric, and holds tightly when fastened, as do the buttoned straps that fasten around the seat tube. The main pocket can be accessed while riding at moderate speeds, but it's a bit tricky. Shoulder strap is solid, but it is worth mentioning that it has no pad.
🌐 OVERALL: This is a great addition to my bike, and certainly worth the investment. If you have any questions leave them in the comments and I will be happy to answer.
Review Date: May 19, 2022
Country of review: United States
Helpful comments: 58 people
Product Image: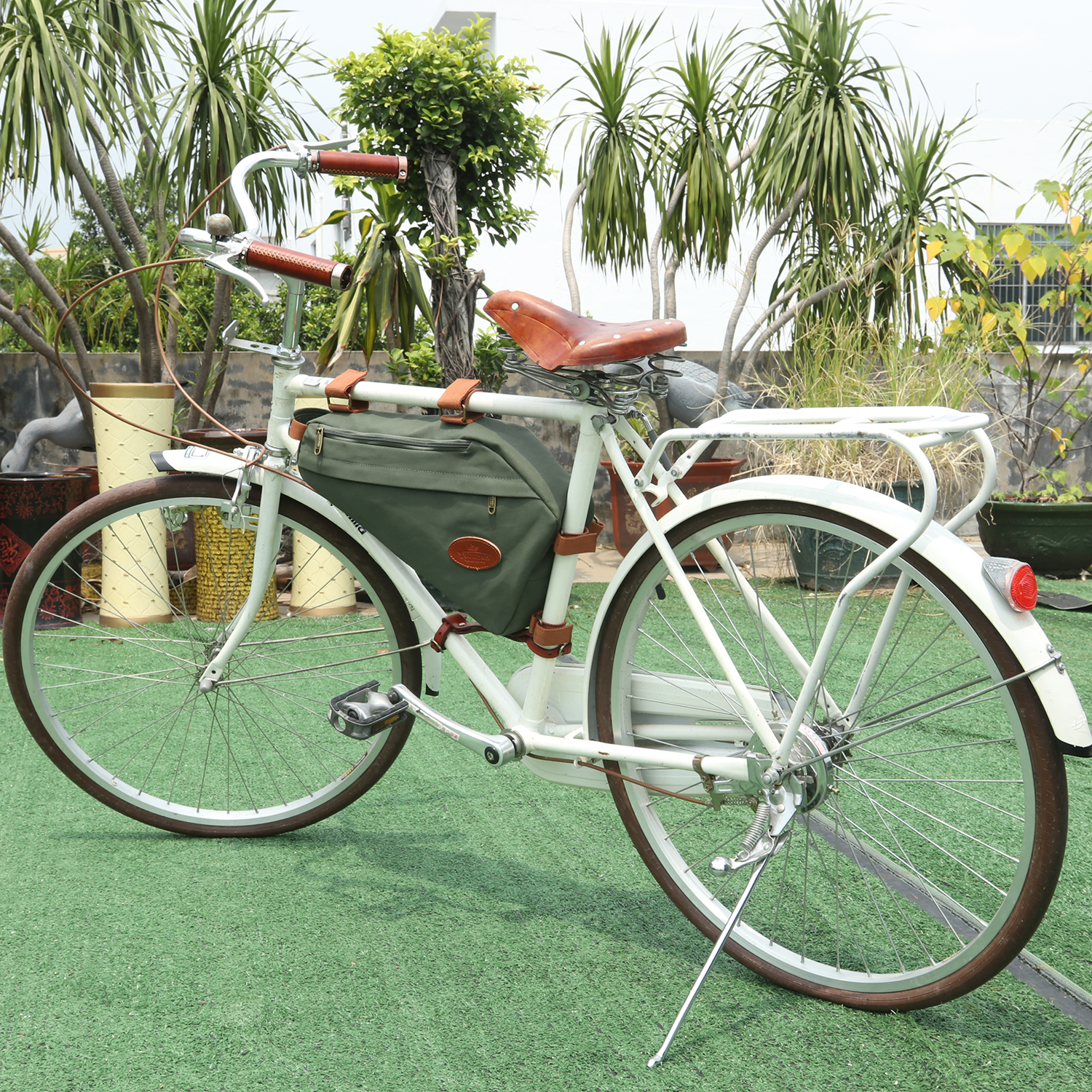 Comments: I love this bag. It has that older style look and color. Goes perfect with my bike. Has the waxed canvas for water protection. Keep my personals in this bag and take with me when Lock the bike up. Can't for the saddle bag to get here. Might even get the rear pannier bag when I get a rack.
Review Date: May 11, 2022
Country of review: United States
Helpful comments: 32 people
Product Image: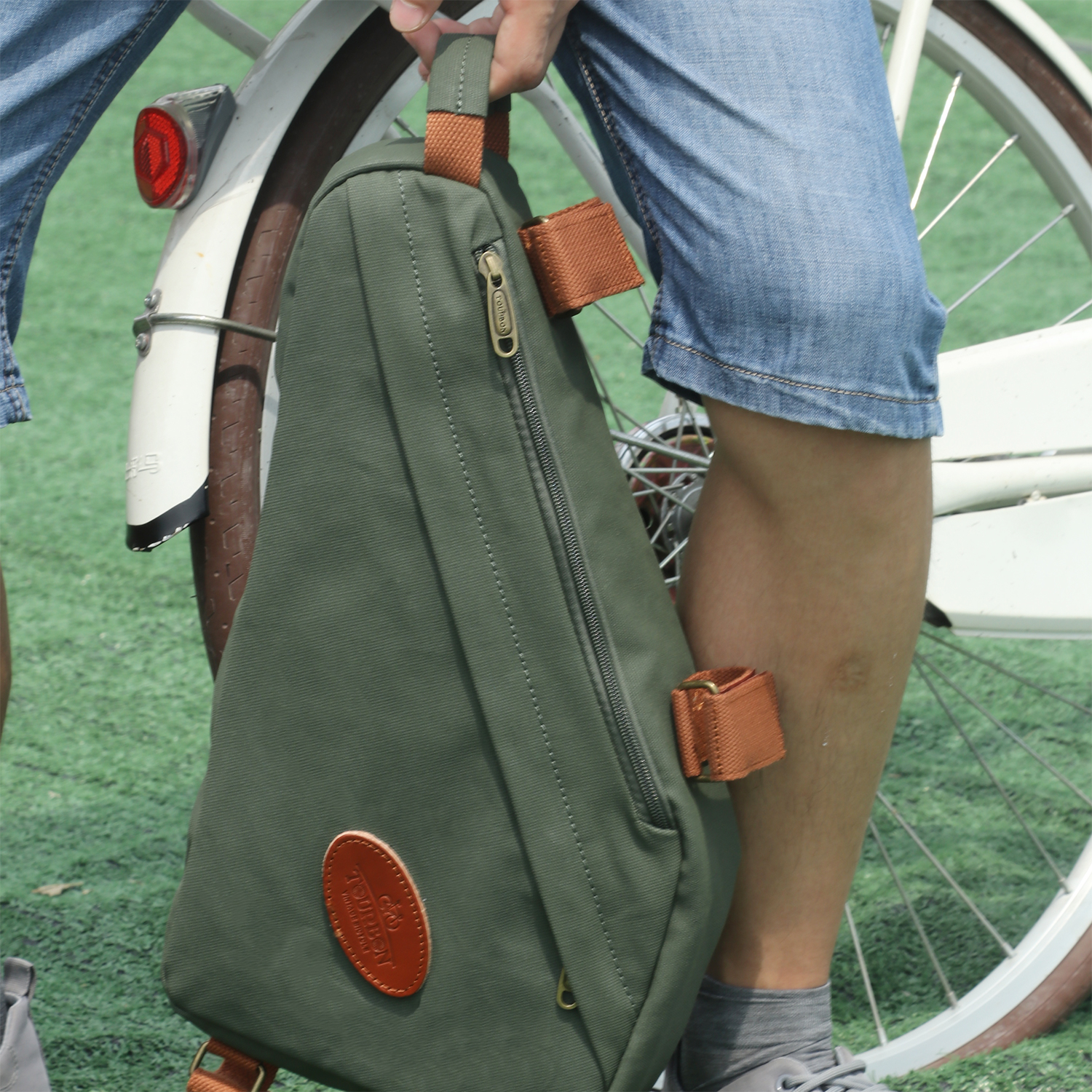 Comments:This bike bag is fabulous, I bought the entire set, all the sizes and I think these are the best bike bags around. Very sturdy and well made and a classic, clean look. I bet they will hold up to wear and tear as well. Great purchase.
Review Date: May 7, 2022
Country of review: United States
Helpful comments: 27 people
Product Image: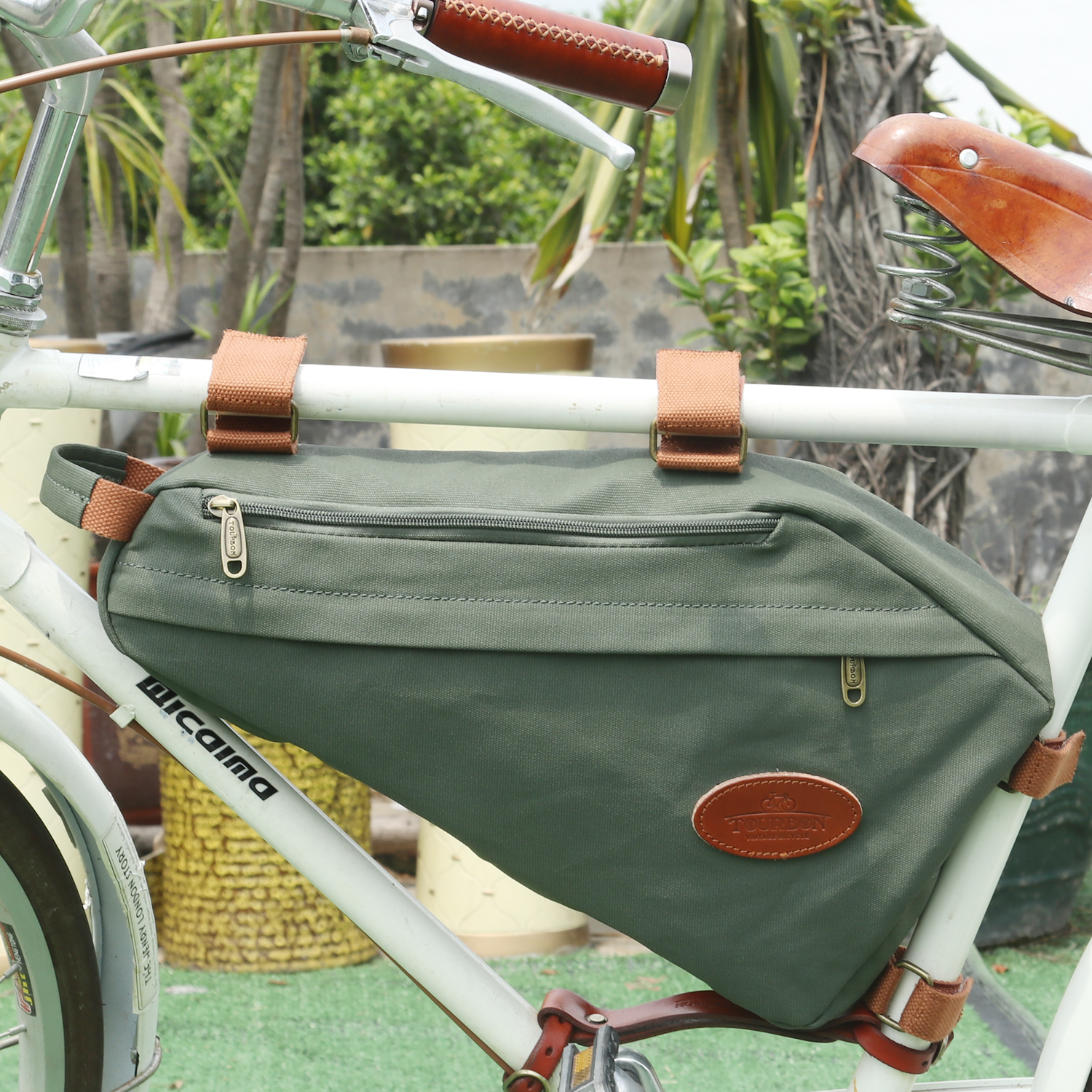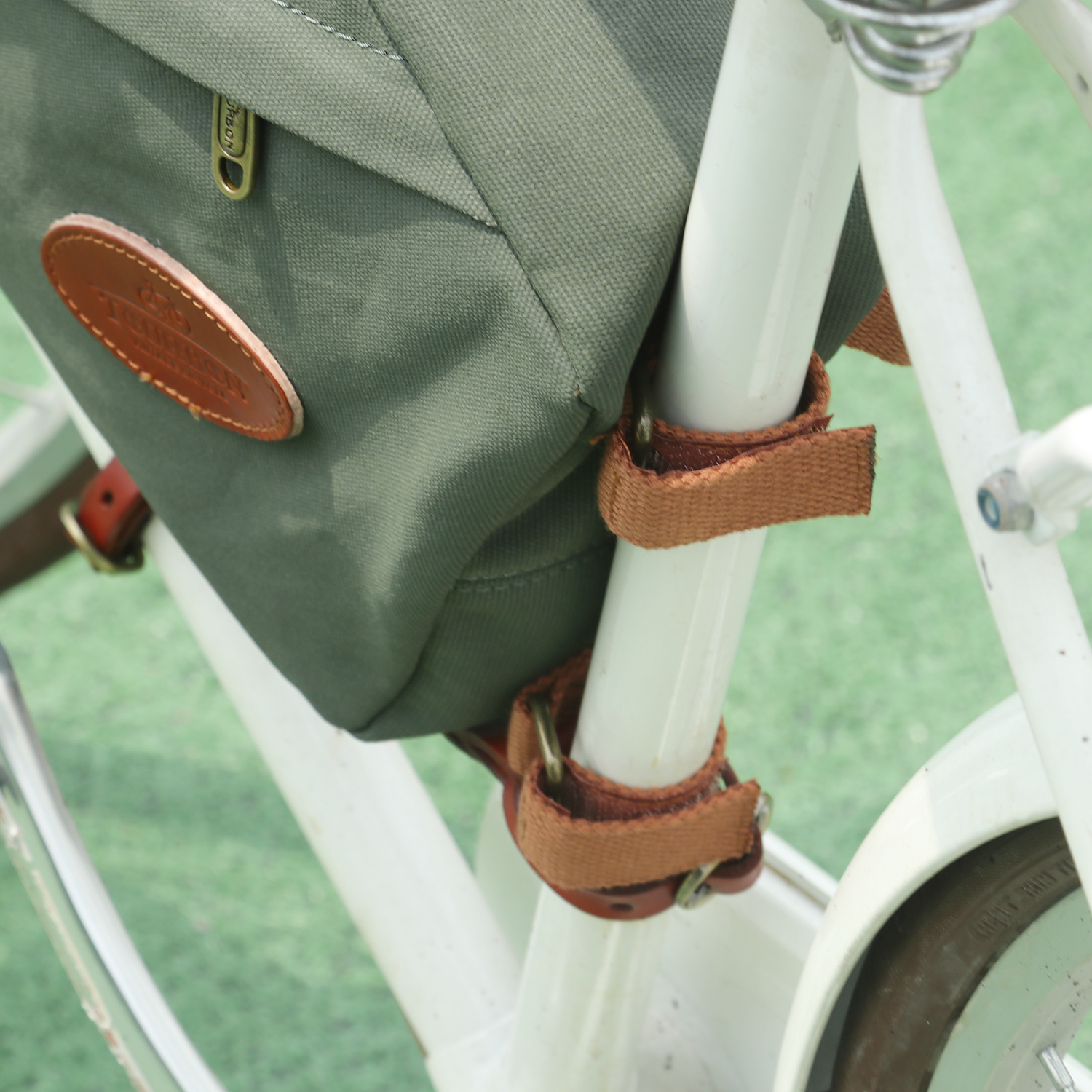 Comments:My only complaint is that the side pocket is too small and the upper pocket is hard to reach (requires you to detach it from the bike). The roles for those should be reversed.
Review Date: April 27, 2022
Country of review: United States
Helpful comments: 23 people
Product Image:
Comments: I really like the amount of space it has. I bought it to be able to carry my multitool, spare tube, gauge, pump, windbreaker, lock and accessories that I have to disconnect when I park it on the bike. Also since I'm planning to buy a portable pump with a gauge, the bag is ideal so that the gauge isn't exposed to moisture and dust, factors that are thought to be the cause of the malfunction.
On the vertical tube of my Giant Escape 3, the lower clasp doesn't close as high as it should because it widens as it goes down. So for potential buyers to take this into consideration, I warn you that the maximum circumference is 5 inches or 12.7 cm.
It was shipped from China in a bag with some weird pressure wrinkles on it that I hope will go away with use and they're not bad enough to leak.
report abuse
Review Date: April 20, 2022
Country of review: Spain
Product Image: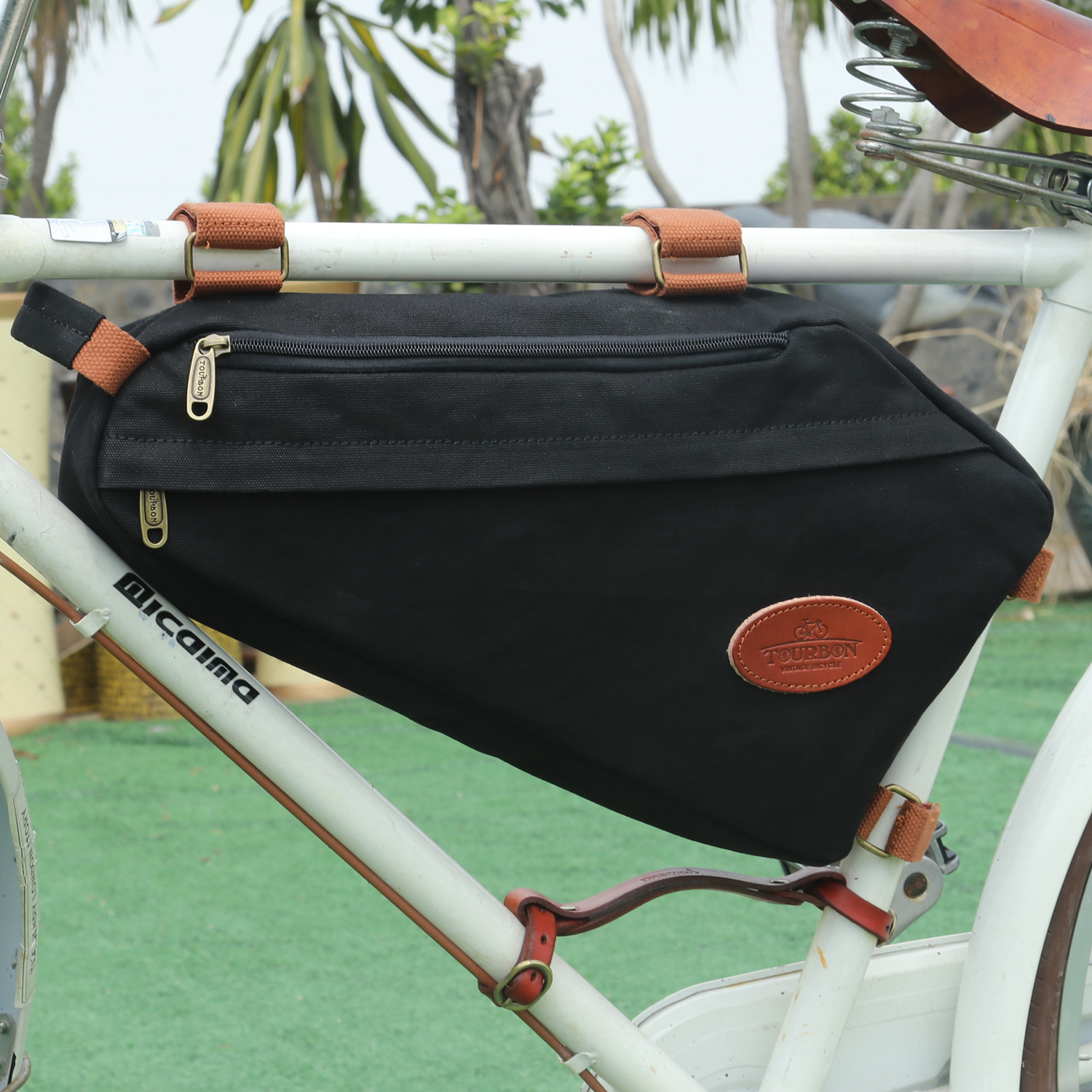 Comments: I looked around for a bag like this and found the Tourbon frame bag.
Exactly what I was really looking for in my electric car. However, I'm not sure if it will fit my bike because of its thick, curved frame and the battery in the trapeze.
But first the package itself:
The workmanship is very good. The thick straps of the upper shelf are fully designed and will loosen under normal conditions
Certainly not easy to fix while driving. You can only access the main compartment with the bag removed, which bothers me
But not at all. The side pockets are perfect for storing a wallet, butt or other things.
I can't test them in bad weather (and don't actually want to), but textiles should
They have to be waterproof, that's my impression. Unfortunately, the two snap rings are not flexible enough to adjust, but they actually bother me
Also less.
Thanks to the straps, I really like the option of carrying the bag on my back. Park the bike, put the battery in your pocket, put it on, and drive through the city. great. If you pack well, you can fit in a lot.
Personally, this color affects me less because it matches my bike color well.
Unfortunately, it wasn't "stuffed" when packaged and was a bit wrinkled and squished.
This bag is just right for my bike. But just right. There are Velcro on the top of the frame and a loop on the battery strap.
It is stable enough to drive without shaking.
Worth every penny for me and will buy again.
04.2022 Update: Waterproof! Hmmm.. the beer is tight, at least.. the hop soup only drips off the clasp after I remove the bag from the bike after the glass breaks.
greeting
Review Date: April 13, 2022
Country of review: Germany
Helpful Reviews: 68 people
Product Image: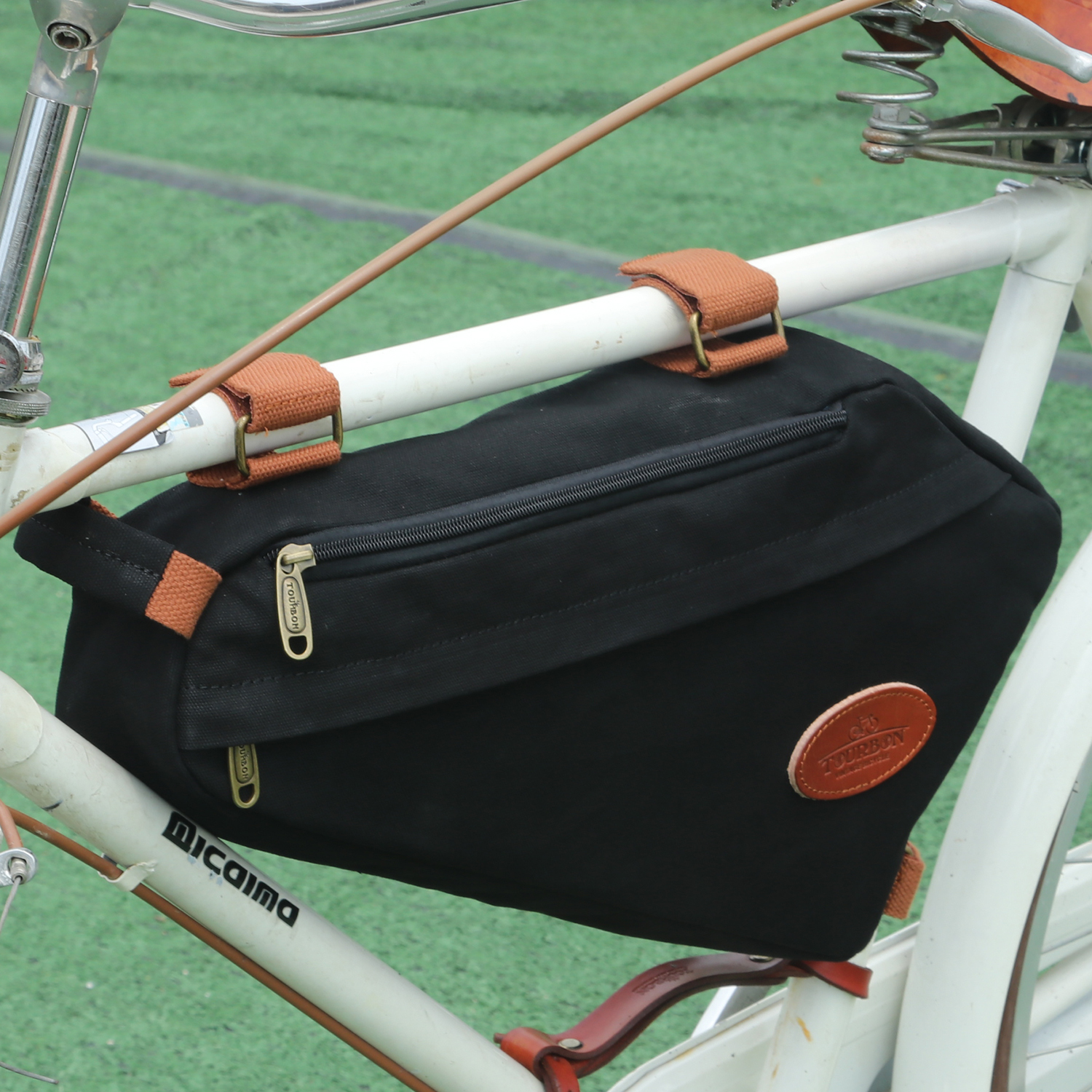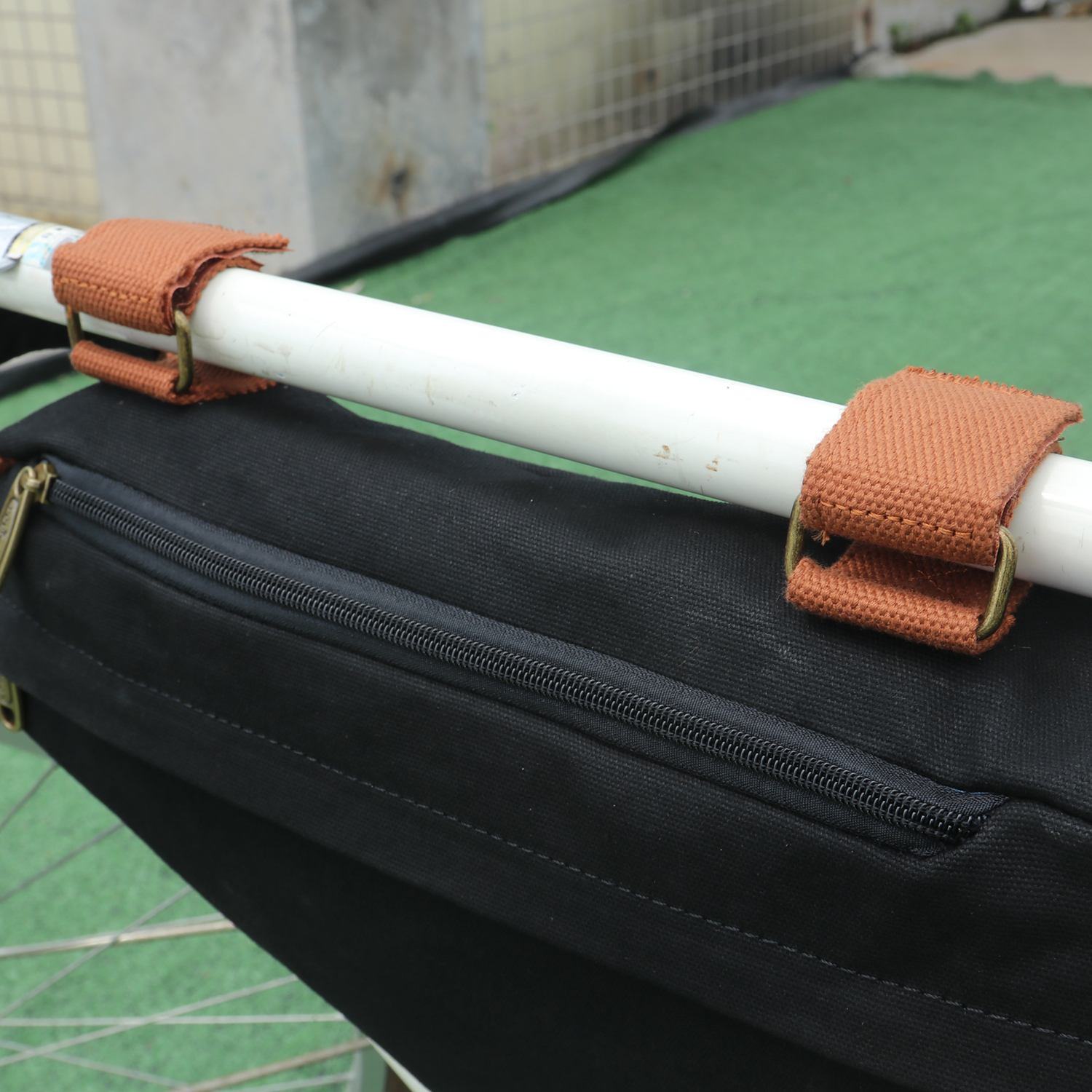 Comments: The appearance is classic, the structure is solid, and the evaluation is very high.
However, if it is installed on a bicycle, the entrance to the main room will be blocked, so it is not suitable for putting a lot of things that you want to take out easily like the proof.
Since there is a tongue with a wide and long hook and loop to close the zipper, it is cumbersome to open and close even in a shoulder bag state.
There are no gussets in the pockets and can be opened with a zipper from the side, so things don't quite fit.
The capacity of the main room can accommodate one person's small tent + floor mat + alpha, so
Perfect for overnight solo tours.
If you use it to "store luggage in the main room that you can't take to your destination," your mouth will go wide.
The fabric and stitching are durable and securely attached to the bike, so you can use it with confidence.
It depends on the type of job, but can it be used for bike commuting?
Review Date: April 1, 2022
Country of review: Japanese
Helpful Reviews: 33 people
Product Image: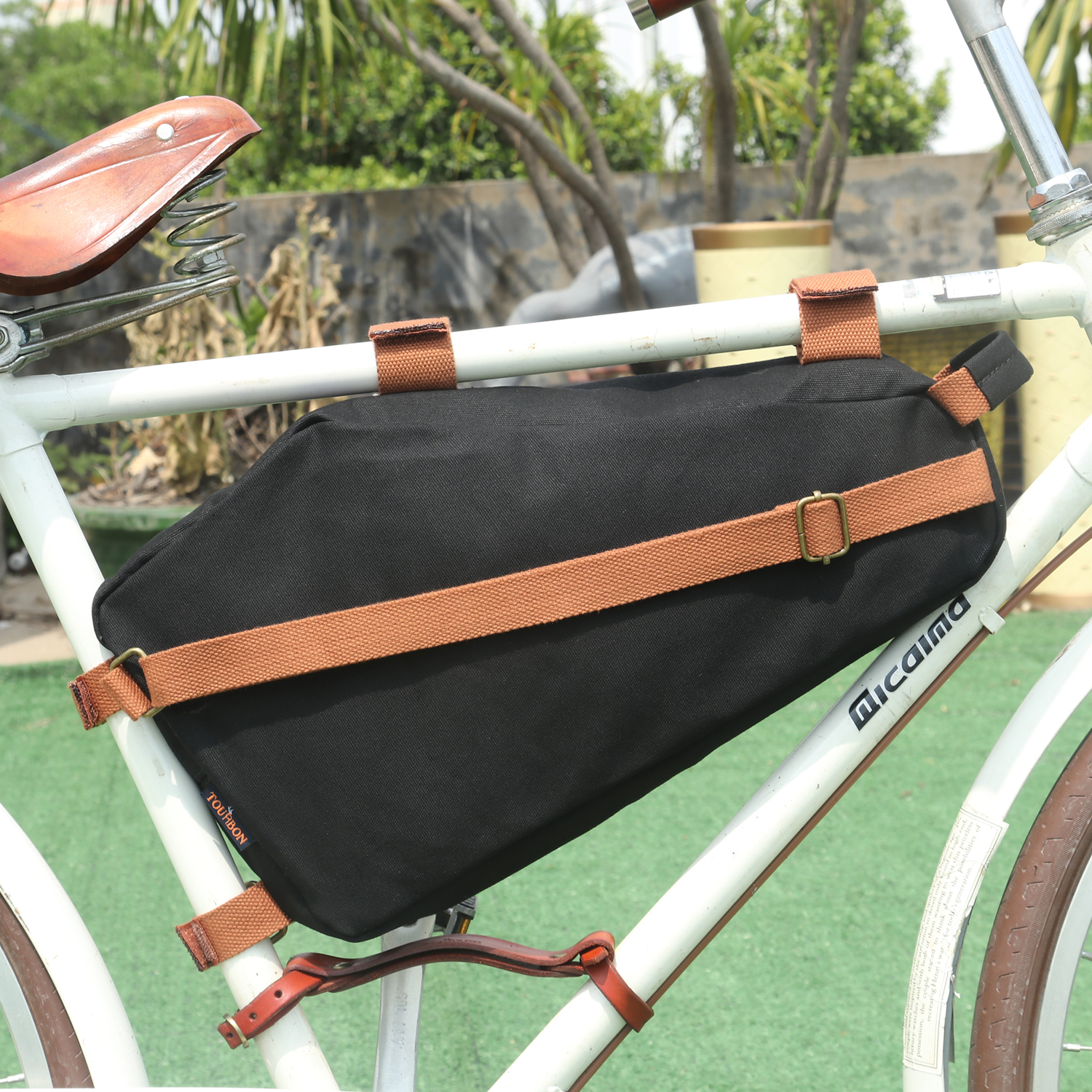 Comments: I ran 3 times in weak heavy rain,
The total running time is about 2 hours, and the water repellency effect is still long-lasting.
The zipper on the top doesn't open or close while it's attached to the frame, so I think it's best to have frequent access on the side zipper or in separate storage.
I also attached it to a 20" mini strap
Since the frame is thick, I stretched and fastened the straps.
The belt on the shoulders fits well
It depends on the frame shape,
Be careful of pedal interference.
I like it because it's just the right size to carry after getting out of the car
I have an umbrella, wallet and rain gear.
Review Date: March 26, 2022
Country of review: Japan
Helpful Reviews: 10 people
Comment